The Children's Learning Center Holds Annual Prom with an 80s Theme!
Teen students from the Children's Learning Center enjoyed a wonderful morning into afternoon at the Prom!  Everyone looked so fun and festive in fancy outfits or 80's themed fashions.
Teachers Kelly Dickey and Kate O'Hara came up with the 80s theme and were the creative influencers behind the decorations, which were amazing!  They designed all the decor which was mostly hand made by them, fellow teachers and the Physical Therapy department.
The terrific DJ was Nashi, an Educational Assistant on staff at our school. A group of students from J.F. Kennedy High School Bellmore/Merrick joined us as volunteers and came to the Prom along with their teacher Barbi Frank who helped coordinate things.   The visiting students did a wonderful job dancing with our students and making them feel special. 
Andre, a graduate of CLC last year stopped by for a great visit. The kings and queens crowned were Zoriah, Ruevan and Tyler. A special crowning was held for Ashley who graduated last year and Jake who has not been able to attend school this year.  
Thank you to all who worked so hard to make this special experience a reality for our wonderful students!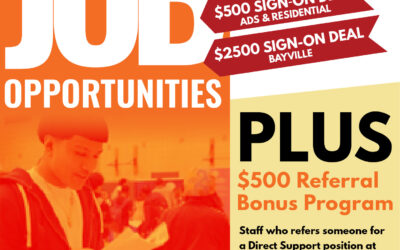 Staff who refers someone for a direct Support position at Bayville, Residential or Adult Day Services will be eligible for a referral bonus totaling $500*
from ANCOR As we celebrate Direct Support Professional (DSP) Recognition Week and honor the incredible work that DSPs do every day across the country to support individuals with intellectual and developmental disabilities (I/DD), it's important to note that the...