4th Annual CP Nassau 5K
November 1, 2020 @ 7:30 am

-

11:00 am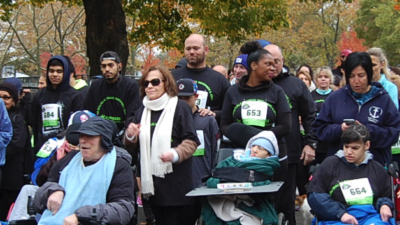 We are all in this together.
That statement has taken on new meaning this year as we endure the COVID-19 Pandemic.  At the Cerebral Palsy Association of Nassau County, we have faced many difficulties and challenges.  We say proudly that "heroes work here" because thanks to the dedication, skill and selflessness of so many staff members, the individuals with disabilities who live in the homes we run have been kept safe and well cared for.  Teachers, therapists and others have worked hard and innovatively to maintain long-distance learning and offer therapies via telehealth for the children and adults with developmental disabilities we serve. Our hearts are broken at the loss of some of the people we serve and co-workers as a result of the virus.  We will never forget them and the difference they made in our world. The 2020 CP Nassau 5K will be a VIRTUAL one.  It will still be great exercise, it will be fun and it will help raise funds for CP Nassau.  These funds will help with the astronomical expenses the Agency has incurred as a result of COVID-19.
The CP Nassau 5K Walk, Run, Roll, Stroll – "This One's For the Heroes" – Participation Requirements
All participants are required to raise $200.*
This is not as hard as it may sound.  We actually hope you will raise more and from past experience, lots of people do!  Once you start asking people, they are generous!  Share, share share on social media!  Did you know, the average online donation is $50!  YOU can do this!
*You have until November 5 to raise the $200.  If you don't raise the full amount, we will invoice you for the balance.
YOU CAN DO THIS!  Making the first donation yourself shows others that you are on board and committed to the success of this effort.  Not only are you doing the 5K but you are personally contributing and that says a lot!  Make your personal fundraising page just that, personal!  Include a photo and your reasons for participating.  Let your friends, family and other connections know how important CP Nassau is to you!  Encourage these people to go to the CP Nassau website and  Facebook  pages to see how the COVID 19 crisis has challenged the Agency. Here they will see news and updates about how CP Nassau is working to maintain quality programs and services while keeping the children and adults who participate and the staff SAFE! Invite all to see media coverage of CP Nassau using these links:
CP Nassau in the News – 2020
New York Times – front page article on April 8
News 12 LI – April 10
Bob McGuire was interviewed live on Friday, 4/17 on Stephanie Ruhle's 9 am ET show on MSNBC
CBS 2 – April 11
Thomson Reuters – TRT World. April 22
Newsday –  Main editorial and supportive op ed by Senator Schumer – April 15
WMCA Radio – Fuel for the Spirit with Denise Richardson – April 18
The CP Nassau 5K Walk, Run, Roll, Stroll – "This One's For the Heroes" – Registration Period
Registration Period—August 17—Nov 1, 2020
November 1 would have been our date for the actual 5K.  You can take a day, a week or a month to finish your 5K.  We invite serious runners to track their time and document it on the 5K site and a list of finish times will be posted after November 1st.  Throughout this period, we will provide updates, training and motivational tips and maybe even run a few fun contests!  Check our website and Facebook page often!  All registrants who meet requirements will receive a custom t-shirt and medal.
Chart your own course—literally!
Participants can run, walk, roll or stroll the 3.1 mile distance. In fact, do the 5K in any format you choose, anywhere you choose and on your own timeframe!  Walking your dog counts! Dedicate your efforts to a hero in your life, or to one of the heroes of CP Nassau. Complete your 5K and WE will give YOU a medal to present to YOUR  hero!
The CP Nassau 5K Walk, Run, Roll, Stroll – "This One's For the Heroes" – Three Ways to Participate
There are three ways to participate, please consider at least one, maybe all!
Participant:  Register to do the 5K and commit to raising at least $200 by November 1. Our usual $25 Registration Fee has been waived!!
Donor:  Contribute to the fundraising efforts of an individual doing the 5K and help them reach the $200 goal required to participate
Sponsor: Event sponsorship of this 5K event is a great way to associate your company with a great cause.
The CP Nassau 5K Walk, Run, Roll, Stroll – "This One's For the Heroes" – Participant Swag
Raise the required amount and post on your page that you have completed your 5K by November 1 and it will be our honor to send you a custom medal and t-shirt!
The CP Nassau 5K Walk, Run, Roll, Stroll – "This One's For the Heroes" – Assistance and Support
Pat Quinn in the CP Nassau Development Dept. is available to assist you with questions you may have.  Contact Pat at (pquinn@cpnassau.org) or 516-378-2000 ext 355.