Lucky Guests Enjoy a Casino Royale Event to Benefit CP Nassau!
CP Nassau held the second annual Casino Royale event on July 19 at the Westbury Manor on a beautiful, sunny evening.  The event's major sponsors were JCH Insurance Brokers and the Westbury Manor.  All funds raised at the event will benefit the CP Nassau Thunderbolts and the MOVE Program (Mobility Opportunities Via Education) at the Agency.
CP Nassau Executive Director, Karen Geller-Hittleman welcomed all and introduced Keith Harmon, a member of the Nassau Thunderbolts Sports Team and Jessica Singh, a student at the Children's Learning Center who, along with her Occupational Therapist, Jennifer Fitzgerald, demonstrated the MOVE equipment that she uses on a daily basis to stand and walk.  The Nassau Thunderbolts is a competitive Boccia team for adults with cerebral palsy and other disabilities.  The athletes and their coaching staff have traveled the country and the world winning lots of medals along the way!
Table sponsors included Jovia Financial Credit Union, Fishbein Wealth Advisory Group- Stifel, Jake's 58, Northwell Direct, BDO, Priority Pension Services, ProCare, Property Tax Reduction Consultants and Vanguard Benefits.
Guests enjoyed the thrill of playing Blackjack, Craps and Roulette. The beautiful rooms and outdoor gardens at Westbury Manor were enjoyed by all guests and the food and drinks served throughout the evening were delicious!  
Eight lucky people won a "golden ticket" as they unwrapped the Wonka Bar they purchased for $10, winning a valuable prize bag and then getting an entry into a raffle for the Tito's Gift Basket!
Raffle prizes were amazing and included a 5 night stay at a gorgeous home in Montauk, accommodations at the Renaissance Wind Creek in Aruba, a Masterbuilt Electric Smoker, a golf foursome at North Hills, restaurant gift certificates, Mets tickets and more!  Winners went home happy! Actually everyone went home happy as they left with a goodie bag filled to the brim with all sorts of gourmet snacks!   There was a $5,000 winner in the cash raffle too!  A Silent Auction hosted by Coach's Collectibles also was a hit.
The "Bottle Ring Toss" brought lots of smiles and cheers as guests flung rope rings in the direction of 150 bottles of various wines and spirits.  Upon landing the ring fully on the neck of the bottle, winner status was declared and the bottle was theirs to enjoy.  Special thanks to Wolffer Estates for donating a large portion of the wine on this table!
A special thank you to Committee Co-Chairs Victor Scotto Jr., and Alison Scotto, and all the committee members who put this event together.  Mary Brosky from CP Nassau coordinated all aspects of the event and  did a great job.  We are so grateful to our sponsors and to all the attendees who supported this event with such enthusiasm and generosity!  We feel like we hit the jackpot for the Cerebral Palsy Association! 
Staff who refers someone for a direct Support position at Bayville, Residential or Adult Day Services will be eligible for a referral bonus totaling $500*
from ANCOR As we celebrate Direct Support Professional (DSP) Recognition Week and honor the incredible work that DSPs do every day across the country to support individuals with intellectual and developmental disabilities (I/DD), it's important to note that the...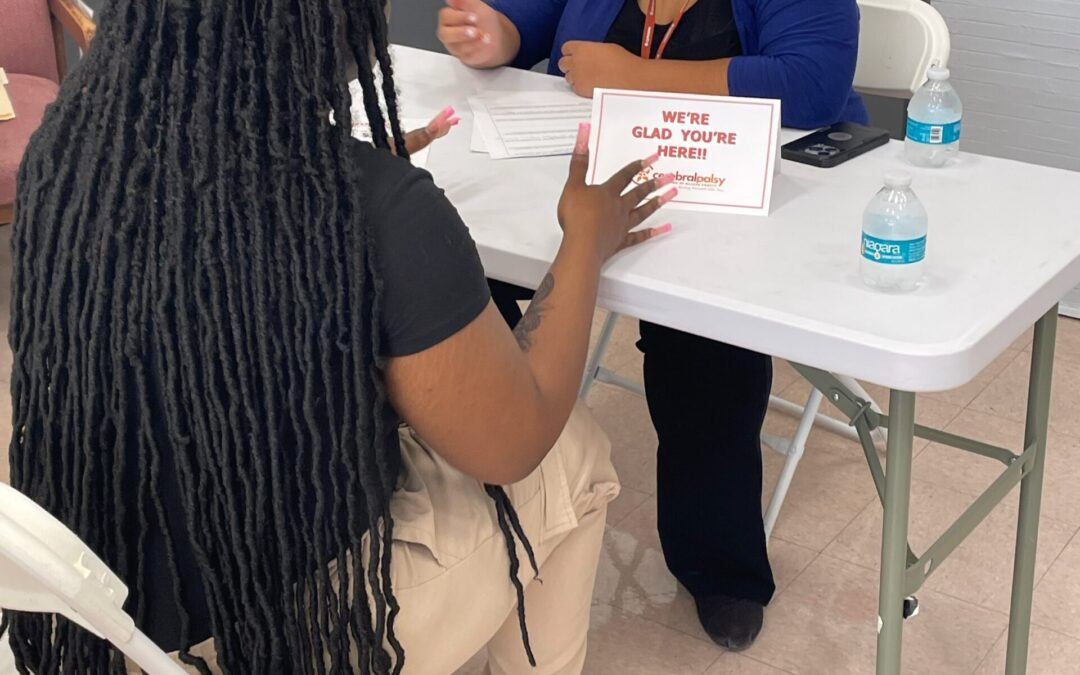 CP Nassau recently held a job fair on Monday, August 21, 2023. The job fair featured opportunities from nearly every department — Residential Services, Adult Day Services, Medical, the School, Maintenance, and more.