We provide the opportunity for children and adults with disabilities to move forward one step at a time throughout their life to reach their highest level of independence.
The Cerebral Palsy Association of Nassau County has been assisting individuals with disabilities since 1948. Today, close to 1,500 children and adults with developmental disabilities benefit from the quality programs and services offered that help all move forward to reach independence and their best life. Programs include a school for children ages 2 – 21, an Adult Day Program, Residential Programs, and a state-of-the art Medical and Primary Care Clinic.
The Agency headquarters is located on a beautiful 15 acre campus that includes a fully- adapted recreation area and playground known as Theresa's Fun Place. Great things happen here on a daily basis as staff works with program participants to make a positive difference in their lives.
In 1941, requiring assistance with her 18-month old son who had been recently diagnosed with cerebral palsy, Anita Baldwin did not know where to turn. Although the condition is not hereditary, contagious, progressive, nor a primary cause of death, with no facilities in close proximity, Mrs. Baldwin's isolation and frustration motivated her to seek out others in similar circumstance, eventually banding together to establish a small outpatient clinic that in 1948 became the United Cerebral Palsy Association of Nassau County, Inc. (ucpn)
A comprehensive treatment and rehabilitation center for people with cerebral palsy was built in 1952, thanks to the partnership forged between generous contributors and volunteers who donated construction services. More than seven decades later the Agency is still headquartered on a 14-acre campus in Roosevelt, Long Island, New York, with satellite facilities throughout Nassau County. The Agency is part of both statewide and local support networks that fulfill a similar mission for individuals and their families with disabilities. This includes, CP State Association of New York, which coordinates the efforts of 24 Cerebral Palsy affiliates throughout the State. In 2016, Cerebral Palsy Association of Nassau (CP Nassau) left the National Association after a 60 year relationship.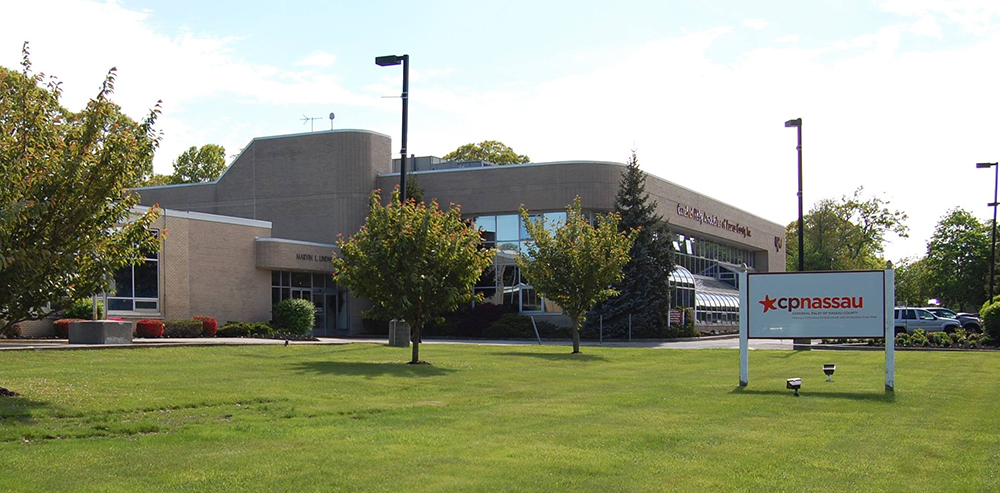 The separation was prompted by our desire to support the community on a local and national platform with greater choices for both day programs and residential services. By leaving the national organization our new DBA became CP Nassau. Family-centered, comprehensive, full day and outpatient services are provided to approximately 1,500 participants annually. The Agency provides these services to individuals with a wide range of disabilities including, but not limited to: cerebral palsy, intellectual disability, epilepsy, spina bifida, muscular dystrophy, vision impairment and speech delay.  CP Nassau's Traumatic Brain Injury (TBI) Department specializes in working with individuals whose lives were dramatically and irrevocably changed as a result of a sudden brain injury.
CP Nassau offers a myriad of on-site medical services that include primary care, podiatry, physiatry, orthopedics, dental, seating, augmentative communication and therapeutic services, the Children's Learning Center (CLC), Adult Day Services (ADS), Community Habilitation and Residential Services are also provided. Each program offers an opportunity for individuals with disabilities to become self-reliant through the latest therapies, state-of-the-art technology and individualized wellness programs. The caring, and compassionate staff and dynamic and dedicated volunteers remain committed to enabling all participants the opportunity to and to attain their personal best. This is achieved by providing the highest quality services to the children and adults in our Agency.
2022-2023 OFFICERS AND DIRECTORS (32)
President 
Jerry Poller
Executive Vice President
Ed Probst
Vice Presidents
Mary Fleisch
Joel Meltzer
Hon. Anthony L. Parga
John Seery
Kathryn Wilson
Treasurer
Greg LiCalzi Jr.
Corporate Secretary
Karen Kiefel
Presiding Trustee
Ernest T. Bartol, Esq. 
Directors
Iris Alessi
Natalie Alloy
Sudheer Bhogadi
Dawn Feniello Bressingham
Scott Castellano
Thomas Connolly 
Michael Farrier
John Ferrari
Annamaria Impagliazzo
Albert T. Jaronczyk
Jean M. Kestel, Esq.
Robert Masterson
Michelle McCormack
Frank Ozol
Peter Purpura
Steven Protass
Victor Scotto, Jr.
Robert Spina
Jack Sullivan
Ralph Ventura
Jenna Yang
Mary Lou Zizzo
CP Nassau Leadership
Executive Director
Karen Geller-Hittleman
Ext. 210
Assistant Executive Director
Peter Dolan
Ext. 215
Gordon M. Siess, CPA
Corporate Compliance Officer
Jose Rivera
Director 
Ext. 354
Corporate Compliance Hotline
516-377-2114
Adult Day Services
Sharon Rothstein
Director
Ext. 336
Children's Learning Center
Kevin Loughlin
Principal
Ext. 310/260
Human Resources/Information Technology
Larry Davies
Director 
Ext. 401
Medical and Therapeutic Services
Dr. Michael DeAngelis
Director
Ext. 265
Clinical Services
Ellen Naidus
Director
Ext. 285
Residential Services
Paul Lowry
Director 
Ext. 360
Quality Assurance
Jose Rivera
Director 
Ext. 354
Corporate Compliance Hotline
Hotline: 516.377.2114